Welcome to our wonderful school!
I am delighted that you have chosen to find out more about us. I hope you find our website informative and that you see we are a friendly and ambitious school that welcome all children and their families both in Tittensor and from our surrounding areas.
We are very proud of our nurturing school and are lucky to be enthusiastically supported by our Tittensor Community. We aim to be at the heart of this community and give our children the very best outcomes for them to be equipped for their journey to middle school.

MISSION STATEMENT
Learning and growing together as we follow Christ

Our Vision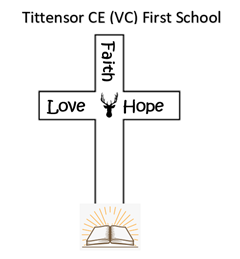 Tittensor CE (VC) First School Vision

At Tittensor we nurture wonder and faith and are full of hope and enthusiasm, as we worship together. We encourage all to persevere and grow in learning to our God-given potential. We look after one another and our world, with love and respect, seeking the common good for all.

Our School Aims
Our aim as a Church school is to support children through the teachings of Jesus in developing our six core values: Compassion, Creation, Forgiveness, Friendship, Service, Trust. We aim to celebrate faith by enabling our children to make the right choices in God's eyes and to have a positive impact on those around us as part of God's family. We will not accept bullying and everyone should feel valued. We will create a happy, friendly, inclusive and caring learning environment where children love to come and learn. Everyone will succeed and have the opportunities to establish good relationships, stay healthy and look after our own wellbeing.

We are very fortunate to have strong and embeded links with St. Luke's Church and the Diocese of Lichfield.
Please feel free to come and have a look around our fabulous school, we have an open door policy that welcomes everyone.

Miss Gail Craig
Headteacher